All round
Madonna boasts she's never been with a guy with a small d**k

get top stories via email
Madonna boasted that she's "never been with a guy with a small d**k" during her explicit Madame X stage show.
The singer gave fans a vivid description of her raunchy sexual antics as she kicked off her show at the London Palladium this week after she axed the first gig of her UK tour.
She asked the audience if they have slept with someone with a "small d**k," The Sun reported.
"What do you call a man with a small penis?" she said.
"The answer is, I wouldn't f***ing know. I've never been with a guy with a small d**k.
"You know size matters, don't pretend that it doesn't."
The gag by the 61-year-old superstar was just one in a series of lewd jokes.
During the two-hour ten-minute show, she made other outrageous gags about having sexually transmitted diseases and being told she's "good" when she's on her knees.
After being given a chair by a dancer, she said: "Usually I kneel for about 20 minutes and that's fine. I'm good at it, so I've been told."
And when she took a swig from an audience member's beer, Madge added: "There you go, we have just shared STDs."
The rebellious icon opened her legs wide, grabbed her crotch and bent over in raunchy routines.
The "Vogue" singer's list of ex-lover includes model Kevin Sampaio, 31, director Warren Beatty, 82, Guy Ritchie, 51, Sean Penn, 59, and rapper Vanilla Ice, 52.
Moreover, she later joked that she uses the queer dating-app Grindr to scope for assistants.
She also lewdly cracked: "You know they say that the eyes are the window to the soul. And I believe that.
"However, I think that you are all forgetting about a more important window."
She opened her legs before declaring: "That's right ladies and gentleman, this is what it's like to have Mozart come out of your p***y."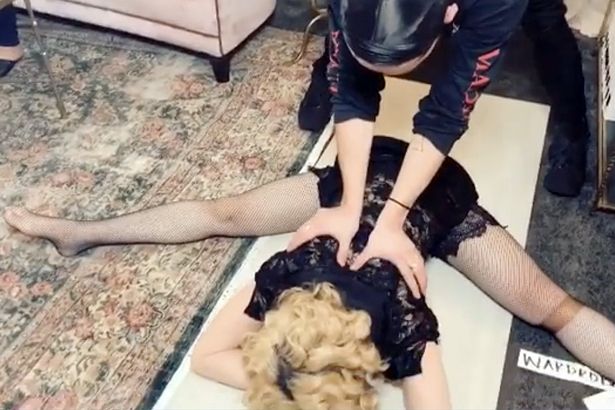 The multi-million-selling singer's show on Wednesday was the first of a 14-night stint at the Palladium over the next three weeks.
She has already performed it in the US and Lisbon — where her last album was conceived.
However, Madonna was forced to finish bang on time as she pointed out that Westminster City Council would crush her with a 'nine-ton iron curtain' if she breaks her curfew.
Writhing on stage with dancer boyfriend Ahlamalik Williams, 25, she told fans: "I've got to make it fast.
"There's an iron curtain that's going to come down at a certain time. I've been warned by Westminster Council. I hear it weighs nine tons, and that would hurt."
She took to the stage in the capital after a string of cancellations have caused tremors between her and some fans.
Many expressed their fury online after the musician was forced to axe her first London gig, citing "doctor's orders".
Madonna spent time in Portugal for the sake of 14-year-old son David Banda's ambitions to become a footballer.
She's axed ten performances in the last four months due to chronic hip and knee pain.
The star and her toyboy boyfriend were also joined on stage by her seven-year-old twin daughters Stella and Estere and Mercy, 14.
The diva wore knee supports as she performed the first show of her 14-date UK leg of her tour after cancelling Monday's show and being forced to rest over knee and hip injuries.
Popular Posts:
get top stories via email